eBay vintage goodness
eBay has been an obsession of mine for the last 8 months or so. on the one hand it is a wonderful thing, as i get to own some incredible vintage treasures. but on the other hand… i constantly find myself broke and oh-so-sadly in debt (only to my mother, don't worry). what i've noticed though, is how i've been concentrating more on finding vintage shoes on the site. i now have 9 pairs of pretty great vintage shoes, as compared to my ZERO vintage dresses — but i'm working on it.
anyway, in spite of this addiction to shoes, only two pairs are actually my size. my errors in judgement have usually resulted to ginormous shoes that i can hardly walk in. nonetheless, they are lovely little things and i will hold-off on re-selling them for as long as i can.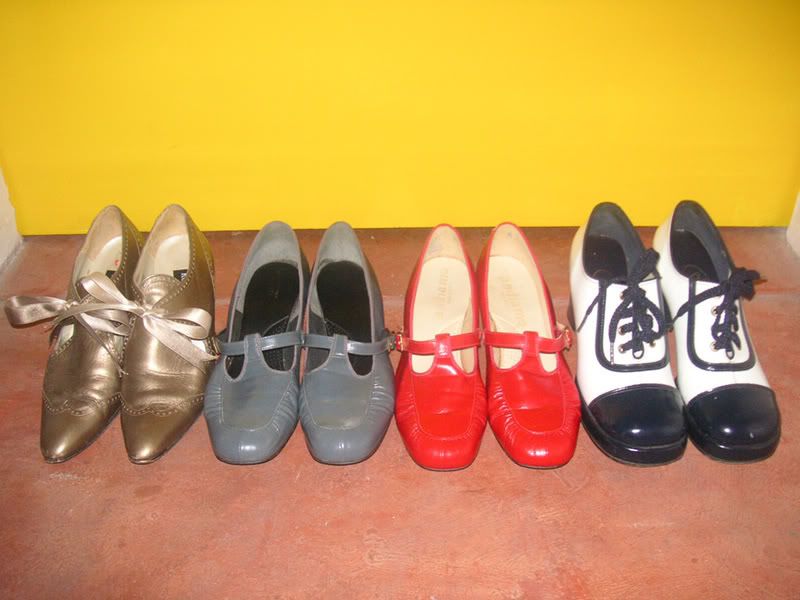 vintage kenneth cole metallic brogues with ribbon laces; vintage gray t-strap shoes; vintage red t-strap shoes; vintage blue and white spectator shoes
these are some of my most recent eBay purchases. the first three, from left to right, arrived at the p.o. just a few days ago. the pair on the far right has been with me since january but i haven't found the perfect outfit to do them justice, as they are really super cute.
also, the brogues on the far left and the spectators on the far right are the only shoes that fit me well. believe it or not, the gray and red t-straps (yes they are identical in every way except in color) are at least 1 size big on me. i still haven't figured out what to do with them, but i do know that i love them so.
does this happen a lot to you, too? do you end up with things that don't really fit but you sacrifice your comfort (and perhaps dignity, as you end up looking or walking stupid) for that particularly wonderful item? this is why i always try on things when shopping at thrift stores, because you never really know how something would fit until it is actually on you. sadly, eBay offers no such guarantee, and every time i bid on something i take a huge plunge into the world of the unknown.