Bad Idea
i went to the mall over the weekend to run some errands so i was wearing another one of my casual outfits. i wanted to share it here, but there was no one to take my picture. i almost lost all hope when i remembered i used to take photos in dressing rooms all the time! hah.
so i popped into zara (which i have tried to avoid the last few months because of my shopping ban), picked out a couple of items to try on and snapped away. this is what i wore:
nothing special as you can see! i just wanted to be comfortable and this outfit really fit the bill.
by the way, people have been asking where i got my *awesome* little prince bag. it was a present from a friend who went to hong kong, but he doesn't remember exactly where he got it. haha oops.
so i was happy about being able to take my outfit pic. i felt so sneaky. so enterprising. but then it soon backfired, when i tried on the clothes i picked and actually liked them both. argh.
anyone who has followed my blog in the last year would know that yellow (mustard, to be exact) is my favorite color. i guess it's no surprise that i really loved this top. i mean, come on. it has a frickin bow on it.
and this floral maxi dress… ahh. i know it looks a bit odd and frumpy on me but that's because i didn't take off my shorts and belt underneath. plus i'm wearing the wrong shoes! imagine what it would look like with my fabulous
clogs
?
but of course i can't buy any of the two items. so i have learned my lesson: when there is no one to take my photo i shall resort to my trustee tripod and stay in my room where i have everything i could ever want*.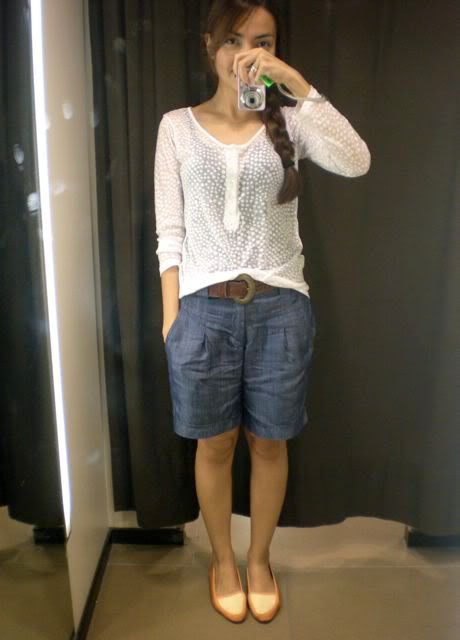 *or at least i can pretend like i do.
white shirt – thrifted
chambray bermudas – coco cabana
brown belt – thrifted
canvas shoes – secondhand
PS
only one day left until i pick the winners of four bottle cap rings from junk studio! you can still join the giveaway HERE. 😀