Why Did The Chicken Cross The Road?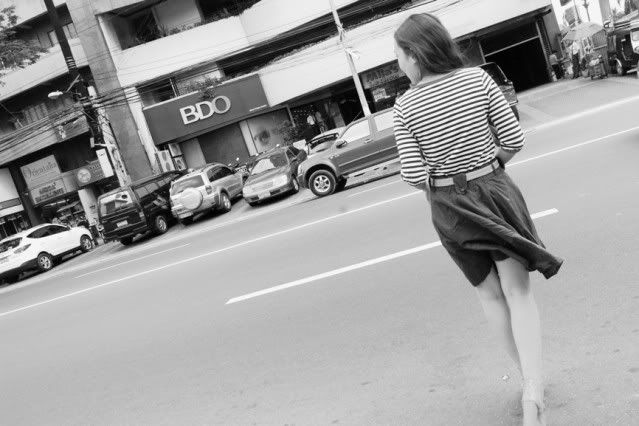 buddha: asking this question denies your own chicken nature.
ernest hemingway: to die. in the rain. alone.
martin luther king, jr: i envision a world where all chickens will be free to cross roads without having their motives called into question.
dr. seuss: did the chicken cross the road? did he cross it with a toad? yes! the chicken crossed the road but why it crossed, i've not been told.
me: chicken? omg, i am so hungry!
— haha. sorry, grumbling stomach doing the talking here! but honestly i only picked the title because it (sorta) went with my road-crossing photos! :p
anyway! i've been loving jasmine's outfits so much lately that i decided to wear something jasmine-inspired, thus the nautical theme. i would've loved to put a bow in my hair, too, but experience has taught me it's not my best look. so i put it on my finger instead!
i am also trés trés excited to have found out that one of my new colleagues is a photographer of sorts… so my worries about not being able to take daily outfit pics have been quashed indefinitely. cheers!
striped cardi – thrifted
navy skirt – thrifted
belt – vintage
lace-up heels – parisian
bow ring – anagon