When Bloggers Unite
as most of you probably know, some of the country's top fashion and beauty bloggers came together last may 27 for the BLOGGERS UNITED bazaar. it was held at the 32nd and 33rd floors of malayan plaza hotel in ortigas. it was a BLAST. so many people came to support us (bloggers, readers, friends, family – you name it) and we thank you all from the bottom of our hearts. (: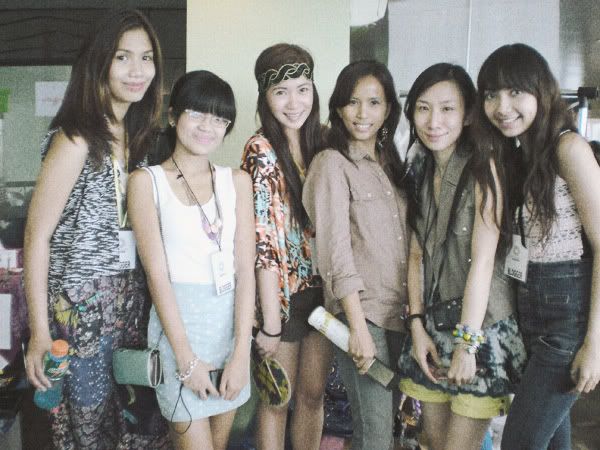 i wasn't able to properly document the event with my camera, although i originally planned to take photos of everything. things got so, so crazy during our 12-hour affair that i could hardly whip out my digicam for blog photos. but here are some things that i managed to capture (plus a handful of pics grabbed from others, hehe).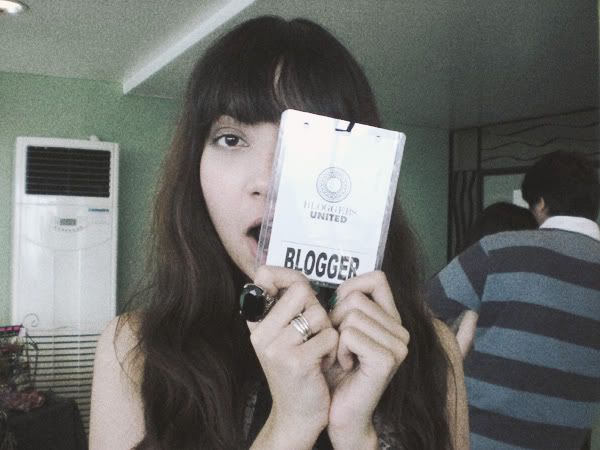 here's my area which i shared with lauren. i sold some of my clothes and put them in three suitcases. i loved how it looked (like a low-key garage sale) but i kind of wish i brought a clothes rack too so it wouldn't have been so messy.
my booth-mate lauren!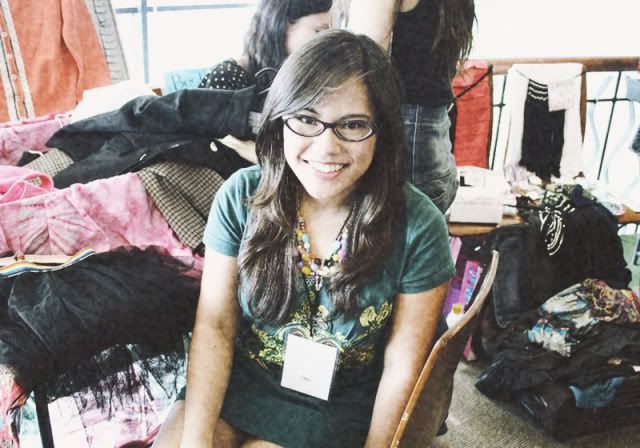 this was the sight in front of our space: the peace love fashion clothing line, full of supercute t-shirts and tank tops. i can't tell you the kind of self-restraint i had to practice to not buy every single one of their stuff. lol.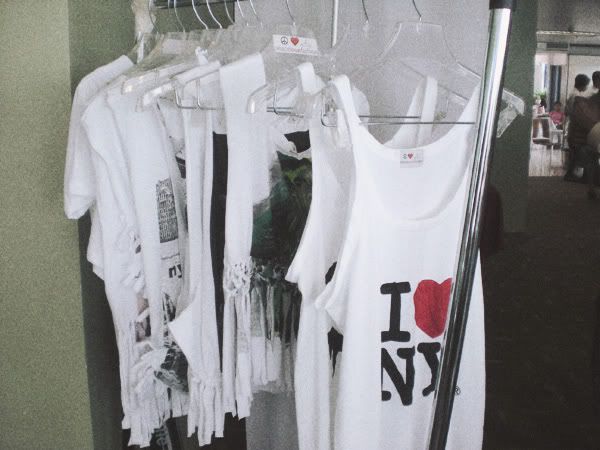 here are our booth "neighbors" aie, krissy and ana (the other bloggers who shared their booths are not pictured here) selling mostly accessories:
on the other side was our other booth-neighbor dani's incredible selection of clothes, shoes and handmade collars and ties. i got a couple of her peter pan collars and i adore them.
also nearby were the amaaazing clothes and shoes of the gorgeous rosanna. i planned to buy a couple of things from her but i forgot and then they were gone. 🙁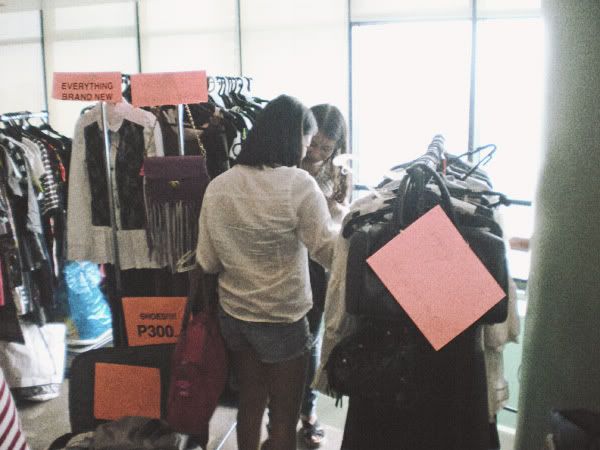 the supercool FFT peeps at their blockbuster-hit of a booth. love their edgy stuff!
here's our view from the top. recognize anyone? (:
the sweet denise of simone's closet also popped in to do some shopping!
and what's a bloggers' event without the celebrities of the blogosphere coming together for some picture time? ahh, they all look amazing. (: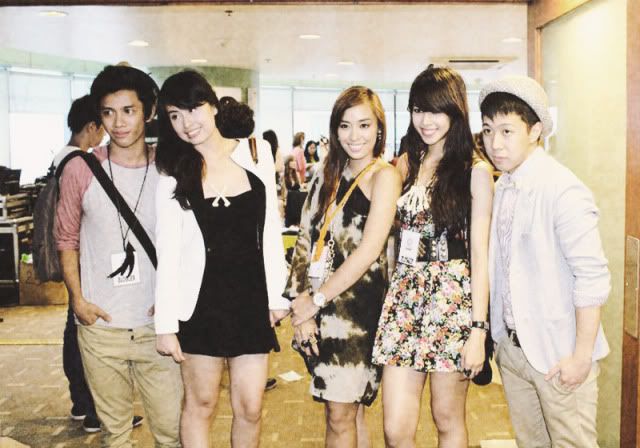 finally, here is my major fangirl moment with the mesmerizing camille co. i loooove her and have been stalking admiring her for some time now. it was my first time to meet camille and she was incredibly nice! so of course i couldn't resist having my picture taken with her – although i look like a midget compared to her towering 5'7″ (plus heels!) frame.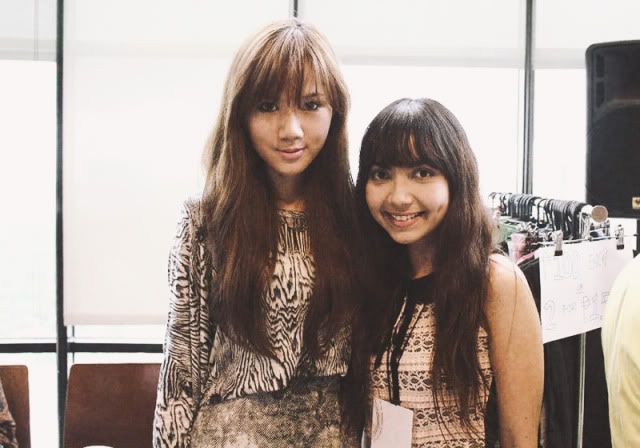 well i wasn't able to take proper outfit pics but here are a few where you can see what i was wearing. a peter pan collar lace top, some high-waisted skinny jeans and my favorite ferretti lace-up clogs. i've already worn these to death but i am still very much in love with them! i paired them with some bright yellow socks for a quirky touch.
and here i am trying on some round sunglasses from anagon. i reallyyy want a pair like these but i was unsure of how well they fit my face, so i didn't get them. yeah, i'm having major regrets right now.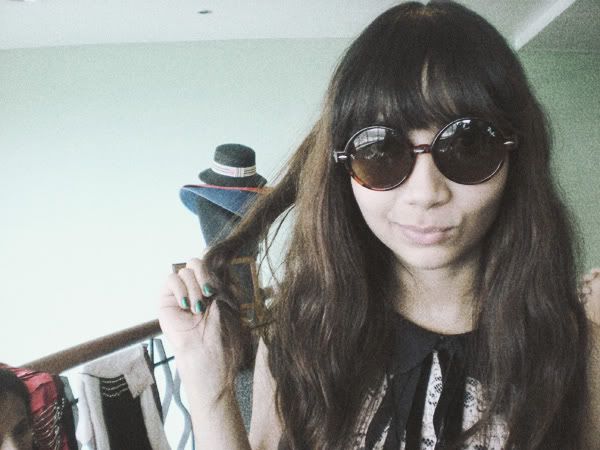 here are the glasses that i did end up buying. they are so so cute. i wore them in this photo (taken at the end of the day while i was packing up) to hide the fact that i was completely spent.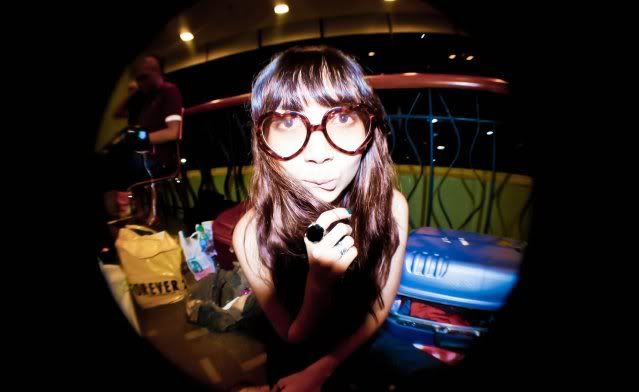 well, the event was such a huge success that i can't imagine it not becoming a tradition for us. i have a feeling there'll be lots more in store for BLOGGERS UNITED, and we expect you all to be there for it. (;
kudos to aisa, ana and melai who came up with this brilliant idea, and thanks to all of our wonderful sponsors. you guys rock.