back to wardrobe_remix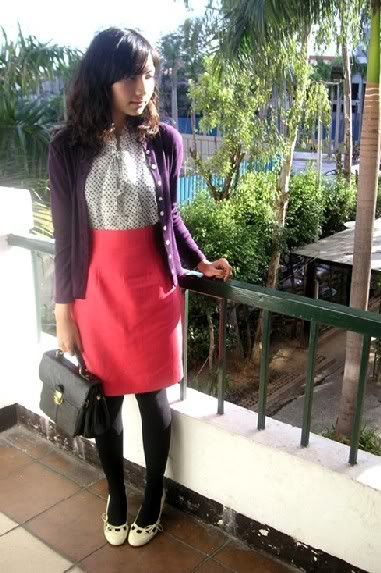 it's been over a week since my last post to w_r, because i haven't really gone anywhere 'worthy' of a put-together outfit. in fact, for the last week i just did a lot of thrifting, which was crazy-fun, but it also meant more t-shirts and ratty old jeans. anyway, to celebrate all that bargain-hunting, i created an outfit with some of the things i recently bought.
ascot blouse – vintage; thrifted 75¢
high-waisted skirt – thrifted $2
purple cardigan – thrifted 75¢
pumps – thrifted $1.50
leather bag – vintage; thrifted $5
(i don't usually share with the world the prices of my thrifting finds, but i thought i'd do it this one time because it's quite rare that i find such insane steals all in one week.)
***the oufit was probably most inspired by ranna, with her gorgeous briefcases and black opaque tights, but the bow and polka dots are, i think, very jasmine.