wow, i am really neglectful of my blog
boo. i knew something like this would happen.
i've been busy as hell over the last week that i couldn't even squeeze in little blog entries, even though i really wanted to. *sigh* i hope things go better in the future though.
anyway, i decided to do a four-way outfit post this time:
(i hope the stripes aren't too much of an eye sore.)
i raved about floral prints a few posts ago… and i really did go everywhere i could to look for the prettiest dresses imaginable. but, um, i've only found one so far. how sad is that? but i have not lost hope.. i am still continuing my search. and besides, this is a pretty good dress to begin with, i think. i thought it went well with my newly-thrifted gladiators, too.
shift~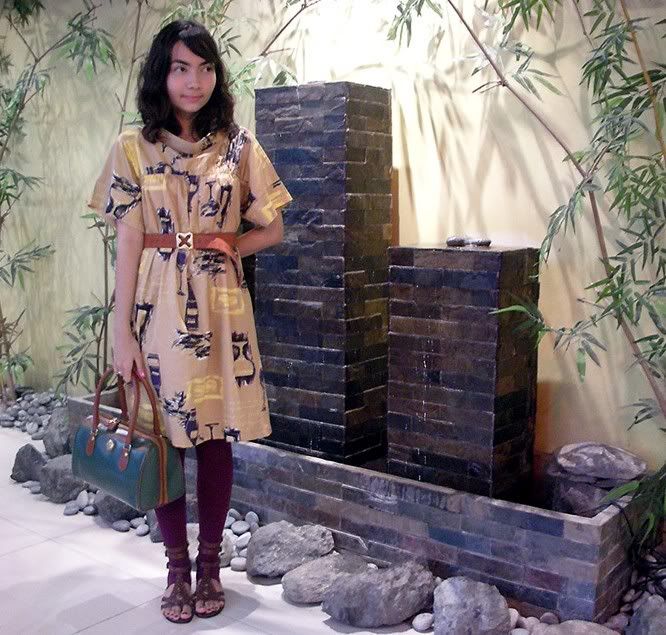 i bought this dress at the awesome jatujak market in bangkok last december. the shape is awesome and the print is soo unique. too bad i totally forgot i had it.
– the belt and cat brooch (invisible in the pic) are vintage and from eBay. tights are from korea, and others were thrifted.
jeans~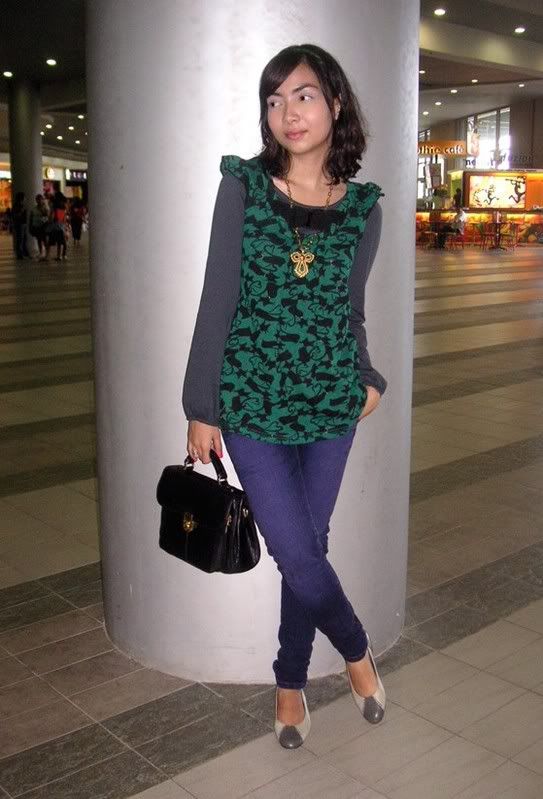 when i come up with outfits for wardrobe_remix i end up wearing dresses or skirts, which is a very cool thing, but it makes my few pairs of jeans rather jealous. so i thought i'd take out my favorite purple ones and create (what i hope is) a pretty decent w_r pic.
– tops from bangkok, jeans from euro edition (local brand that i love love love), bag and shoes were thrifted and the necklace is vintage trifari from eBay.
valentine's~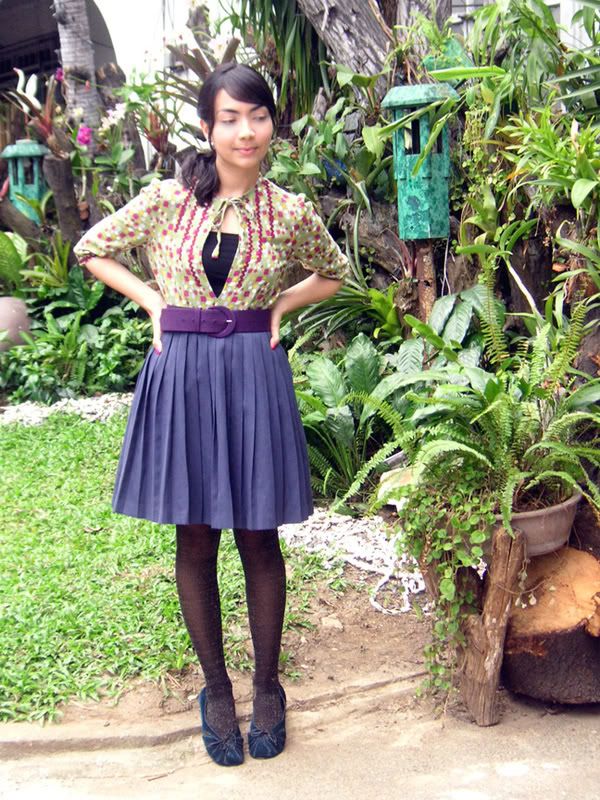 for valentine's day, i opted for a comfy, girly look because my red "lady dress" was, er, unavailable. i really love this particular top (i am such a sucker for things with ribbons/bows/ties and everything in between) because i can literally pair it with anything. trust me, i've tried.
– top, skirt, belt and shoes were all thrifted and the glittered tights are from shanghai.
i was so very excited about these ballet flats i found at a thrift store near our house. i actually discovered it like a month ago, but i knew no one would buy it. so i waited… waited until they were 50% off. see? patience is a virtue.
anyway. the shoes. they are of the dark green, velvety, ribboned kind from tsumori chisato, and they fit me quite perfectly.
also, they were only $4.
i mentioned before, on flickr, that i usually have my pictures taken in front of our neighbors' houses and such.* it's not that i want to be oggled at by people (eek, what a creepy thought), there just aren't many picture-friendly spots in our own home. anyway, one of our neighbors recently had their garden re-landscaped. it used to be a bit boring but now it looks soo pretty! i always stop by and stare at it, wishing it were my garden. hopefully my next few photos will capture the different aspects of it.
*if you haven't tried this, then i suggest you go out right now and do it because it can be very amusing. let me know.(;
—
on a somewhat related note, i'm really happy that my flickr page has recovered from its wierd flu(ke) and gone completely back to normal. it freaked me out for a while there… and one might say i overreacted just a tad.