this post is costing me a lot of money
purple dress – thrifted
belt – ? i'm not even sure it's mine…
shoes – fiorucci
*
black knit top – ? had it for years..
sheer blouse underneath – folded&hung (local brand)
plaid skirt – thrifted
purple belt – vintage; eBay
blue tights – local mall
peeptoe shoes – gift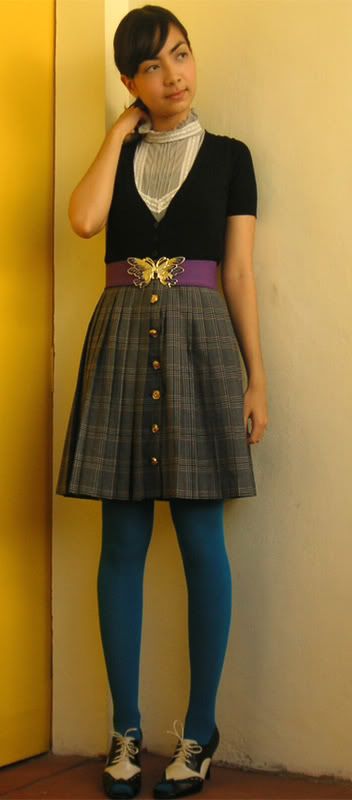 since i am temporarily back from a computer break (thanks to the likes of this very efficient, albeit ridiculously expensive, internet cafe), i shall indulge in one of the surveys i have been tagged to do. this is from
andrea of poetry and fashion
and
jae of a Side Order of Style
.
The rules to this are:
* Link the person who tagged you
* Mention the rules in your blog
* Tell about six unspectacular quirks of yours
* Tag six following bloggers by linking them
* Leave a comment on each of the tagged blogger's blogs letting them know they've been tagged
my unspectacular quirks:
+ i am afraid of manholes. i never step on one unless there is absolutely no other way around it. and even then, i do it very quickly and with a silent prayer that i don't die in the process.
+ i have an uncurable obsession with friends (um, the sitcom) and i watch seasons 1-10 incessantly. so after the very last episode's over, i pop in the first season dvd right away. it's a vicious cycle, really. and i still laugh at the jokes.
+ i roll my eyes all the time and have gotten in a lot of trouble for it.
+ i am very awkward at all types of social events and avoid them as much as i can. i'd rather have a slow, relaxing night with only a few friends, or better yet, a night alone with a good book (or, yeah, a friends dvd).
+ i am allergic to alcohol. and not the rubbing kind, the drinking kind.
+ i cry easily. a really lame love story can even bring me to tears. also, i cry when i laugh.(':
i now tag… (i apologize to those who may have already done this and still got tagged. i just don't have the time to sift through posts right now..)